about EICOSE
organisation
Steering Board
EICOSE governance consists of a Steering Board of 9 persons (3 representatives per cluster, 2 from industry, 1 from academic/research institutes).

Tasks:

Definition and Update of EICOSE organisation structure
Election of Executive Board
Review & Acceptance of EICOSE Priorities/Roadmap
Decision to award EICOSE Label
Decision regarding strategic issues
Decision to accept other clusters as EICOSE members
Creation, Closing, and definition of Working Groups
Meeting frequency: minimum 2 per year.

The Steering Board elects the Executive Board (one elected member per cluster).


Executive Board
Tasks:
Manage / control all EICOSE processes/operations
Ensures external representation
Elects chairman of the Executive Board
Meeting frequency: monthly meeting.

A Chairperson is elected by the members of the Executive Board with a yearly rotation per cluster.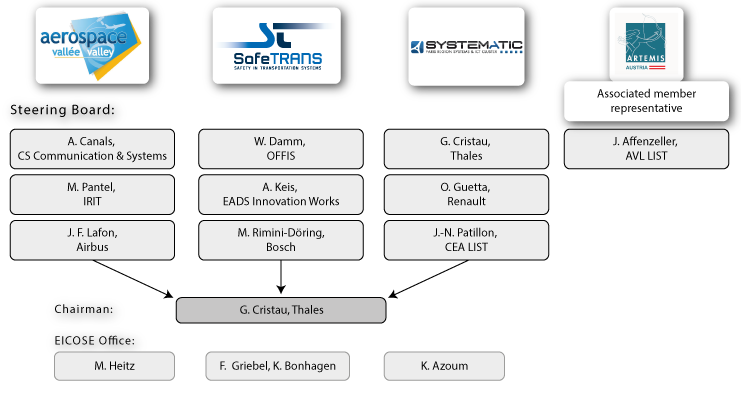 click for pdf-version
Associated Members
EICOSE has two Associated Members:

Associated Members may be organisations (industry, research institutes, etc.), members of ARTEMISIA, which need not necessarily be legal bodies (e.g. it is possible for a subdivision of a research institute to become an associated member, etc.).
more...